Well known figures in the industry are using their platforms to take a stand for the injustices within the Black community, but more so specifically police brutality in Nigeria.
The West African nation of Nigeria, has been in a frenzy with claims of kidnapping, harassments and physical harm done at the hands of police unit known as the Special Anti-Robbery Squad (SARS) began circulating across the globe. Very Graphic videos have surfaced throughout the internet, after a peaceful protest against SARS.
State governor Babajide Sanwo-Olu reportedly implemented a 24-hour curfew and deployed anti-riot police who ultimately opened fire in Lekki's toll gate in Lagos state on Tuesday. An eyewitness says that gunshots were heard for about 15 to 30 minutes and he "saw multiple bodies laying on the ground," according to CNN.
Stars are stepping in to show their support to West Africans during this difficult time, those stars include Beyonce, Rihanna, Demi Lovato, Diddy and many more.
In a tweet Rihanna shares her deepest condolences and frustration regarding the police brutality towards the Nigerian citizens. "It's such a betrayal to citizens, the very people put in place to protect are the ones we are most afraid of being murdered by!" she wrote. "My heart is broken for Nigeria man!! It is unbearable to watch! I'm so proud of your strength and not letting up on the fight for what's right! #ENDSARS 🇳🇬"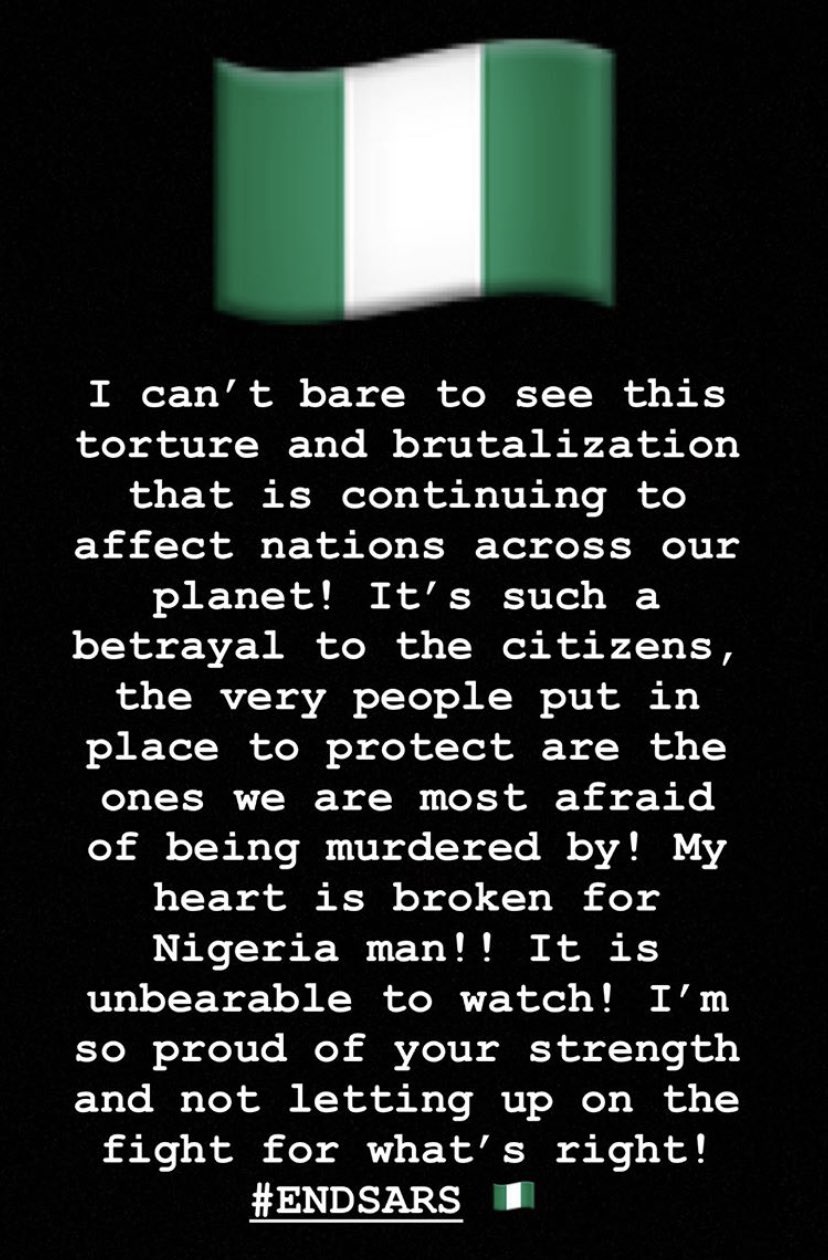 Beyonce also stepped in and made it very obvious that she plans to take action during this time, she reveals that she is "working on partnerships with youth organizations to support those protesting for change. We are collaborating with coalitions to provide emergency healthcare, food and shelter." She is encouraging her followers to go to her website to find organizations that are supporting African Nations.
Diddy also shared a post on his Instagram to help raise awareness of the movement, he says "It breaks my heart. I'll help in any way I can. This fight we are in is a global one. Our path forward is through unity. #ENDSARS ✊🏿🇳🇬"
It's amazing to see these stars using their platform as a voice for the people, during such a difficult time, The #EndSARS movement plans to continue to bring attention to the fight against police brutality in Nigeria until proper action is taken.